The Energy Hawk is a revolutionary energy efficiency system that saves you money by reducing reactive power loss and harnessing the dangerous harmonics. It's custom designed for your facility and will adjust to your energy loads as they increase and decrease.
Read client testimonials here.
Watch Energy Hawk videos here.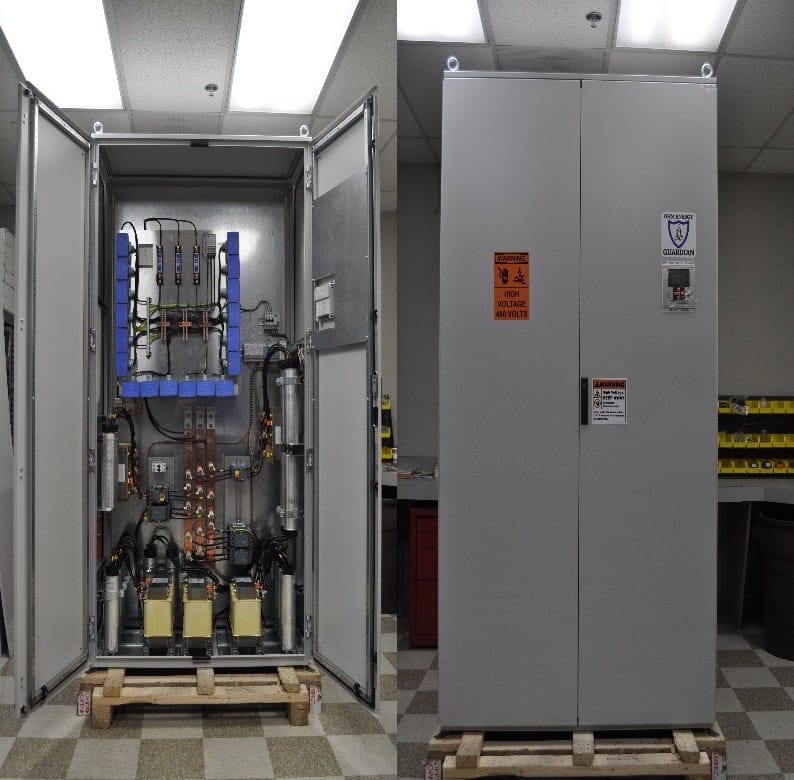 How It Works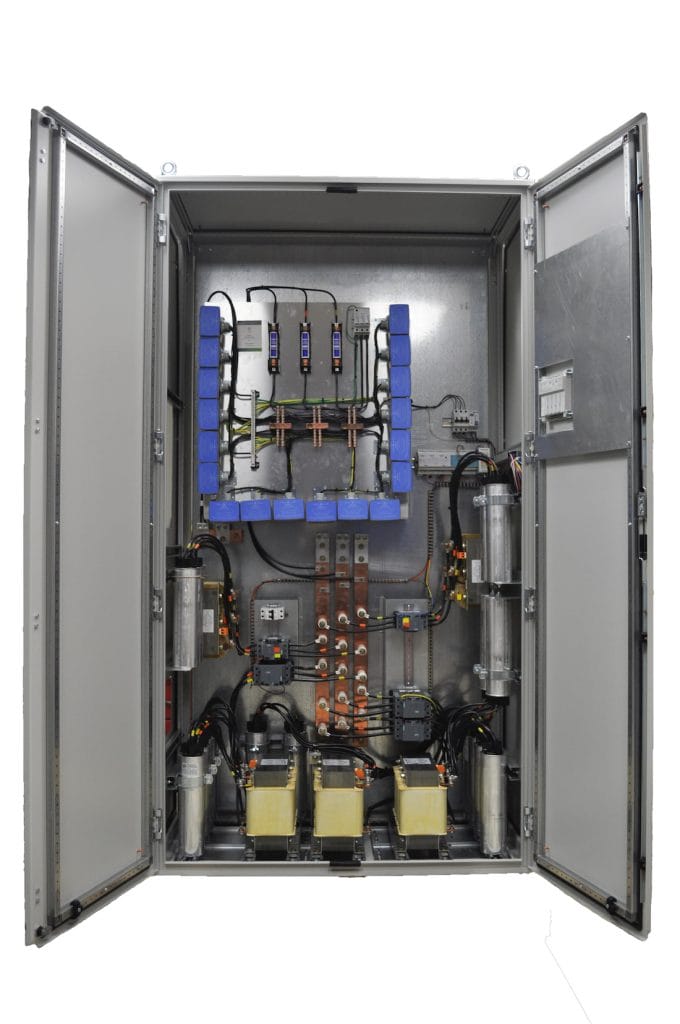 The Energy Hawk System provides dynamic power factor control by actively switching banks of capacitors to keep the system power factor in the range of 0.95 – 0.99 without overdriving the system capacitance. This allows for optimal correction during occupied and unoccupied building states. Harmonic protection is included to protect the capacitor banks and can be included to protect the electrical distribution system from the damaging system harmonics injected by variable frequency drives and other switching equipment.
Power Factor is a measure of how efficiently an electrical system is using power, a Power Factor of .75 means a system is only using 75% of the power it is drawing. The component of power that indicates this efficiency is the reactive power and is present in all electrical systems. In order to overcome this inefficiency the power company must send your facility more power. The Energy Hawk captures this unused reactive power through capacitor banks to increase voltage and realign the electrical voltage and current waveform to allow for more efficient power usage allowing you to pay less in power costs.
The high-quality capacitors and Metal Oxide Varistors (MOV's) are designed and built by the number one manufacturer in the world and are customized for your facility and electrical requirements.
This balanced voltage and increased efficiency lowers electric bills 10-15% and extends the life of equipment, reducing maintenance and repair costs.
By doing this, The Energy Hawk:
▪ Greatly reduces low voltage issues
▪ Elevates voltage of the entire system
▪ Stabilizes voltage of the complete system
▪ Reduces voltage drops when demand increases.
▪ Reduces tripped breakers (as a result of low voltage or power spikes)
▪ Lowers kilowatt hours
By capturing and balancing the energy , the Energy Hawk ensures that the equipment is running at its optimum voltages, which results in less mechanical problems and lower maintenance costs, thus, increasing the life of your equipment.
CAPACITORS
Capacitors setup in banks which are sized specifically for each facility's requirements. Capacitors harvests reactive power and release that power into your system as needed.
METAL OXIDE VARISTORS
MOVs protect your equipment from damaging spikes and sags. The system is protected to 50,000 Volts of surge. They work in concert with the capacitors to allow proper flow of stored energy.
INSTALLATION
The Energy Hawk is rated for interior and exterior installation. Rated to IP67 with built in air conditioning to increase the lifetime of capacitors and inductors.
MONITORING, CONTROLS & ALERTS
Each unit is monitored with a 2-way "cloud" based communication via Ethernet, Wi-Fi and/or cellular gateway. The monitoring provides real-time as well as historical data. Monitoring includes; Volts, Amp, KVA, KVAR and Power Factor. All data is stored, analyzed, and displayed in an easy to read user interface. Although the units are totally automated they can be controlled remotely if necessary. User definable alerts are also built into the monitoring system and are sent via text and/or email.
NO MAINTENANCE REQUIRED
Five-year parts warranty. Built in controller on the unit indicates the product is operating properly.
A licensed electrician must professionally install all ENERGY HAWK units and sign the warranty card.